A lot more than you might realise, says Ornamental Plant Specialists Woolmans. We all love and admire roses, indeed their delightful fragrance is one of the joys of the English summer garden, but, does the wonderful perfume remain constant and the same throughout the day?
Well, the simple answer is, no it doesn't. The fragrance changes depending on the flowers age, time of day and, if cut and displayed in the vase, how long it has been in that vase.
"Roses offer us a tremendous variety of scents and all varieties have their own and unique fragrance, but it's fascinating to discover how the scent changes and evolves throughout the day" comments Tom Stimpson of Woolmans. "Our rose breeder, over many years, has found that in the morning it is the strong and heady citrus notes of the fragrance which we can smell first, which in turn gives way to the more spicier and floral scents later in the day – the ones we adore on a warm and sunny afternoon. Lastly, it is the lower and heavier components, notes of wood and balsam, which come to the fore, the perfumes base".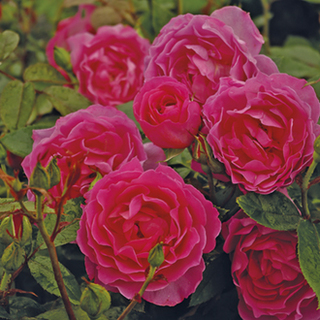 Woolmans has been trialling numerous rose cultivars over the last few years and has selected five varieties to introduce this spring – all chosen for their exquisite perfumes and colours. "All five of these are superb and the change in fragrance through the day is quite incredible – I didn't realise a roses perfume could be so complex" comments Tom.
Woolmans has also been very impressed by the excellent disease resistance each cultivar has shown – "literally no blackspot and no mildew" says Tom. "Such diseases are very often the bane of the rose gardeners' life but with these five they are just non-existent".
The company is offering three floribunda cultivars: 'Amélié Nothomb'®, 'Generation Jardin'® and 'Pompadour'® – all priced at £15.95 each and two climbers, 'Amnesty International'® and 'Claude Monet'® priced at £17.95 each. All supplied as freshly dug bare rooted plants and despatched at the end of March.
To order Woolmans Chrysanthemum and Ornamental Plant Catalogue 2017, please go online at www.woolmans.com , telephone 0845 658 9137 or write to Woolmans, Gazeley Road, Kentford, Suffolk CB8 7QB.