British native wildflowers have been a real focus of interest in recent years and Mr Fothergill's have responded to this with an even greater choice of seeds of these popular varieties for the 2021 season range. The previous offering of 14 varieties has been extended to 25 wildflowers.
As well as providing an attractive display, wildflowers are great for attracting an array of wildlife including bees, butterflies, and other beneficial insects and birds. Examples include:



Bellflower Wildflower (RRP 2.55 for 250 seeds) is a cheery native perennial which flowers the year after sowing. Producing royal blue flowers which are highly attractive to bumblebees. It is ideal for dry borders and heavy soils, especially areas which are left to grow wild. Requiring little maintenance, it is very easy to grow.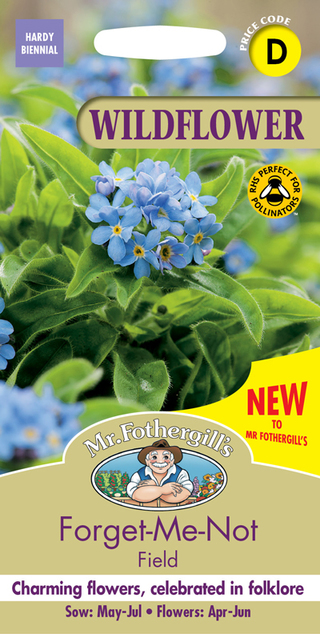 Forget Me Not (Field) (RRP £2.15 for 500 seeds) is a delightful plant which is celebrated in folklore. It is easy to grow and produces a carpet of tiny blue flowers. Not only does it provide early colour for borders and wild areas, but it makes an attractive groundcover between spring flowering bulbs. Also flowering the year after sowing, the plants foliage is bright green and provides the perfect canvas for these small blooms.
As well as wildflowers the Mr Fothergill's range sees other new additions including the exciting new arrival, Zinnia Peaches and Cream (RRP £2.55 for 75 seeds). This long-flowering plant produces extraordinary flowers in vivid colours of peach, salmon and cream. Blooms are large flowered and crested, making a stunning addition to mixed summer borders. Ideal as a cut flower and highly recommended.

Native to Asia Nigella Black Caraway (RRP £1.85 for 700 seeds), although a flower, is rather uniquely grown for its pungent seeds which are widely used in cooking. The black seeds are a popular spice with a combination of tastes – imagine a mix between onion, black pepper and oregano. Grown for flowers, the branched stems bear fine, deeply divided leaves and elaborate blooms in shades of blue to white.

With the popularity of herb gardens on the rise, Mr. Fothergill's is excited to introduce this interesting mint, Mint Applemint (RRP £2.15 for 500 seeds). Plants are vigorous and produce masses of fresh and distinctly fruity flavoured, pungent leaves. It's an attractive addition and ideal for adding a twist to sauces, jellies and salads.

In the vegetable seeds, Kale (Ethiopian) Amara (RRP £1.85 for 500 seeds) is easy and quick to grow. This 'Texsel Greens' is tender and mild, and ideal in pots and containers on the patio. Leaves are uniform, fresh looking and delicious, plus, have a great texture and mild flavour with an interesting hint of garlic. Used for 'cut and come again' baby leaves. Or, can be left to mature as larger 'greens'. Plants are vigorous and an excellent source of vitamin C and A.
Visit the Mr.Fothergill's website to browse the full range www.mr-fothergills.co.uk