Mr Fothergill's RHS Award of Garden Merit flower and vegetables ranges have been hugely popular since their launch and this year sees the expansion of the RHS seed offering with new flower seed mixes. Endorsed by gardening experts at the RHS, these easy to grow mixes are perfect for novice gardeners and those looking for an economic and efficient way to fill flower beds and borders with season long colour.

There are 6 mixes to choose from, each packaged in cartons containing enough seed to cover 20 square meters. The flower seed is diluted with buckwheat husks to make sowing easier, growing beautiful flowers in 3 simple steps: Scatter – open the handy tab on the side of the carton and scatter the seed over pre-prepared soil. Rake – over the area. Awake – water and watch your flowers grow!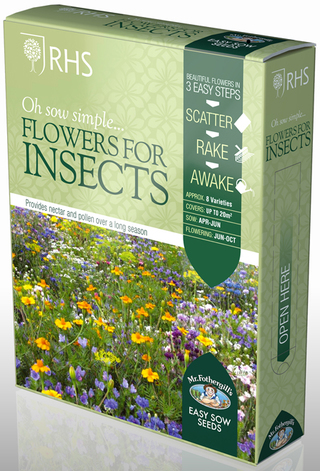 Perfect for attracting an array of nature into your garden, Flowers for Wildlife Cool Mix contains 12 varieties of long flowering, nectar rich blooms, which create a stylish display in colour coordinated, cool and serene shades. Producing blue and white, nectar and pollen rich flowers over a long period.
For a more vibrant canvas, Flowers for Wildlife Bright Mix is an easy to grow and extremely rewarding mixture. Containing 15 varieties this mix creates an eye-catching display of nectar and pollen rich flowers in a wide range of colours and shades. The vibrant blooms promote garden biodiversity, also flowering over a long period. Both Flowers for Wildlife mixes provide maximum benefit to a wide variety of visiting wildlife.

A colourful mixture of classic, reliable blooms, Cottage Garden Mix is a carefully blended mixture of traditional garden favourites. Created to provide a beautiful display of colour throughout the summer months. The 10 varieties are great for cutting and will provide a food source for birds and beneficial insects.

Flowers for Bees Mix is created to produce food for a range of bees. Specially designed by experts to provide a wealth of reliable, nectar and pollen rich blooms, to attract and benefit a wide variety of useful, pollinating bees. The 8 varieties create a colourful display of orange, white and blue shades, which are easy to grow and flower over a long period.

Also included in the collection are Flowers for Insects and Flowers for Birds and all have a RRP of £5.99.

Sow all mixes between April and June and they should flower as early as June, through to October.

The RHS flower seed mixes are available to buy at retailers and garden centre stockists of Mr. Fothergill's seeds.